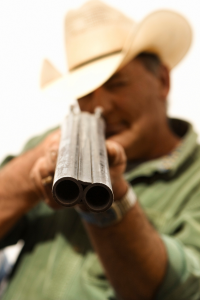 What a difference one day makes.
For this Christian business owner, it happened — again — the same day he got good news. The good news in June 2017? The U.S. Supreme Court had agreed to consider his case.
He didn't yet know the outcome. It was simply good news that the highest court of the land had deemed the questions in his case worthy of the highest consideration.
Good news later became Great News. One year later, in June 2018, the Supreme Court ruled in his favor.
The man is Jack Phillips. And in Masterpiece Cakeshop v. Colorado Civil Rights Commission, the Supreme Court ruled 7-2 fhat the government had acted with "clear and impermissible hostility toward [Jack's] sincere religious beliefs." 
Click to access 16-111_j4el.pdf
After six long years, case closed. Right?
WRONG.
Because that same day in 2017, when Jack's case was accepted for Supreme Court deliberation, an activist Colorado attorney called Masterpiece Cakeshop. Requesting a cake that was blue on the outside and pink on the inside.
A cake to celebrate a gender transition from male to female.
Not surprisingly, Jack's shop politely declined this request. And, as always, Jack's employee said they would gladly sell the attorney a different cake or anything else in the shop. Instead, the attorney filed a complaint with the government.
According to Jack's attorneys, the Alliance Defending Freedom (ADF), this attorney "admittedly 'take[s] great pride' in suing businesses that allegedly 'discriminate against lesbian, gay, bisexual, and transgender people and serving them their just desserts.'"  
(8/25/18 mail from [email protected] to Diana Furr)
Despite the Supreme Court's clear rebuke of the Colorado Civil Rights Commission's actions toward Jack, that same Commission has now issued "a probable-cause determination in which it definitively declared Jack violated the state's anti-discrimination law by declining to design the requested cake celebrating a gender transition."  
http://adflegal.org/detailspages/blog-details/allianceedge/2018/08/16/3-ways-the-state-of-colorado-is-contradicting-itself-by-continuing-to-harass-jack
Regent University law professor Brad Jacob is not surprised. In an interview with CBN News, he asserted: "Phillips has become a target now. The LGBT community in Colorado has focused on him. He's become a kind of poster boy of Christians who don't accept all the practices of the gay community and so it's not particularly surprising that they're going after him again."  
http://www1.cbn.com/cbnnews/us/2018/august/after-his-supreme-court-victory-how-can-jack-phillips-possibly-be-in-trouble-again
ADF minces no words.
"Colorado is not seeking equal treatment of all customers, but special treatment for customers that request certain messages… Colorado officials apply their laws selectively, using them to target viewpoints that they don't like. As further evidence of this, you don't need to look further than the state's ruling that Jack cannot decline to design a cake celebrating a same-sex wedding, while simultaneously finding that three other cake artists who declined to design cakes with messages opposing same-sex marriage had done nothing wrong."   
http://adflegal.org/detailspages/blog-details/allianceedge/2018/08/16/3-ways-the-state-of-colorado-is-contradicting-itself-by-continuing-to-harass-jack
Bottom line? ADF filed a federal lawsuit in mid-August, to stop the state of Colorado from targeting Jack again. And here we go again.  🙁  So…
How far should governments go to punish "non-compliant" Christians?
How far should Christians go to resist government bullying?
Please post your comments below.
Diana Furr, a.k.a. Abba's Girl
This blog may have raised questions for you. If you'd like to connect, engage, or get further help from me, you can… EMAIL me at [email protected]; CALL me at 863-446-1660; or request a complimentary initial CONSULT with me at https://calendly.com/diana-furr.